I shocked myself.
Mr. Senior 2013 started to read before Kindergarten, but the shocking part was that I wasn't quite sure what I had done to help him read early.
How I turned a Book into a Reading Program
I did know that it was important for him to start reading as quick as he could, so I went down to the local teacher store and purchased a set of Dr Maggie's Phonics Readers.



It was one of the best things I had done though I didn't know it at the time.
Each book highlighted which consonants and vowel the phonics reader was stressing.
In my stupidity, (yes I felt that way but chuckle now) I had accidentally started putting together my own phonics program.
Sharing what I did, I am hoping to help you purposefully put together a phonics program.

1. Purposefully purchase phonics readers.
Look at the book above, which was the first phonics reader my son read.  I studied the book and realized that it had a sound focus or objective with each reader.
It was not only teaching my son how to read, but it was given me tips as the parent.
Realizing which letters were highlighted in the first reader, I started putting together activities for my those specific letters for my son to work on while I pointed out the letters and words to him in the book.
I used those letters to focus on hands-on activities for each week and used songs too.
2. Work with the sounds of the letters that are highlighted in the phonics books.
To build his fine motor skills while teaching him to read, I also made time for him to cut out pictures from an old magazines and paste on a page.
We made crafts for each letter that was focused in our phonics readers.
Though I had been doing activities for a letter a week, I realized I could move a bit faster than introducing one letter per week.  He got bored with hands-on activities for only one letter each week.
3. You don't have a classroom, so go your child's pace when introducing letters sounds.
I finally found a perfect balance for us.
I would have one letter that I would highlight, but I would continue to add in and introduce other letters during the same week.
Later I learned what I was doing was reviewing.  It was a great strategy or technique that I learned naturally by following the capabilities of my son and adjusting our activities to his needs.
When he could read the first phonic reader, he wanted to do it again and again.
4. Reading the same books over and over again instills confidence and builds mastery.   It's not just repetitive work, it's nurturing a love of reading.
Of course, when he was able to read the first phonics reader, he had to read to me again and again and to his dad and to his grandma and to paw paw and to his aunt and back to me again.
5. Reading aloud needs to be varied in content. (psst! use audio books and sing alongs too)

Besides Mr. Senior 2013 reading back to me, I read aloud to him often also.
I started off with Dr. Seuss books because he could start making connections to the words and sounds I was teaching him.
Homeschool Phonics A,B,Cs
Choosing books where he could pick out words he knew over and over again was another strategy.  I didn't have to be so formal all the time by creating tons of flashcards and even having a word wall.
Simply holding him in my lap and using the book to guide us, he learned to read naturally.
In addition, to books like Dr. Seuss that had repetitive sight words, I also read books several grade levels ahead of him to stimulate his vocabulary and build it.




Too, big books are not just for public school.  Realizing that I would have at least three kids to teach phonics to, I bought some fun and useful tools like big books and music.
As we went through each of Dr. Maggie's phonics books playing with letter and sound recognitions from each book, Mr. Senior 2013 was off to a great start.
I chuckle at how unconcerned I was back then with reading delay of if my son would not love to read as he got older.
Reading is a natural process and it doesn't take a teaching degree, it takes a teaching heart.  It does not have to be complicated, it just has to be consistent.
A few phonics readers along with learning sounds and a great heap of good books to read is the foundation to a wonderful reading program.
That's it. Trust that reading is a natural process and unless your child has some special need, he or she will learn to read.
What reading program are you using? Is it working? I also love and used All About Reading.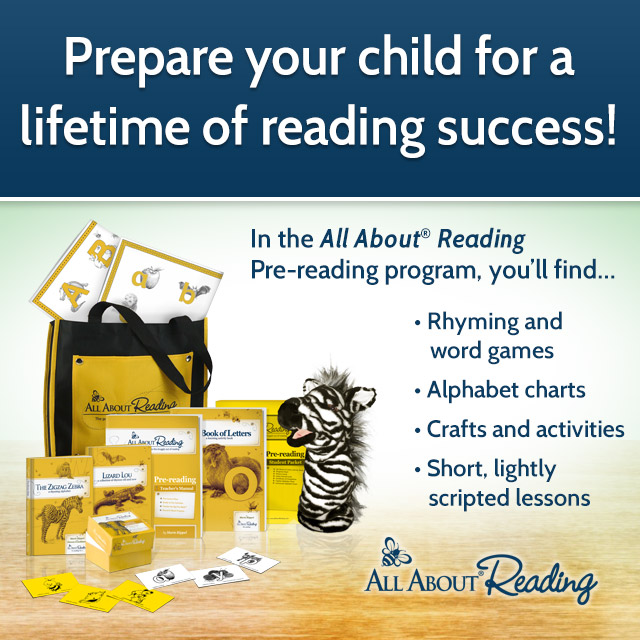 Also, look at:
Hugs and love ya,