"Curriculum for a year if you study one artist per month for a school year."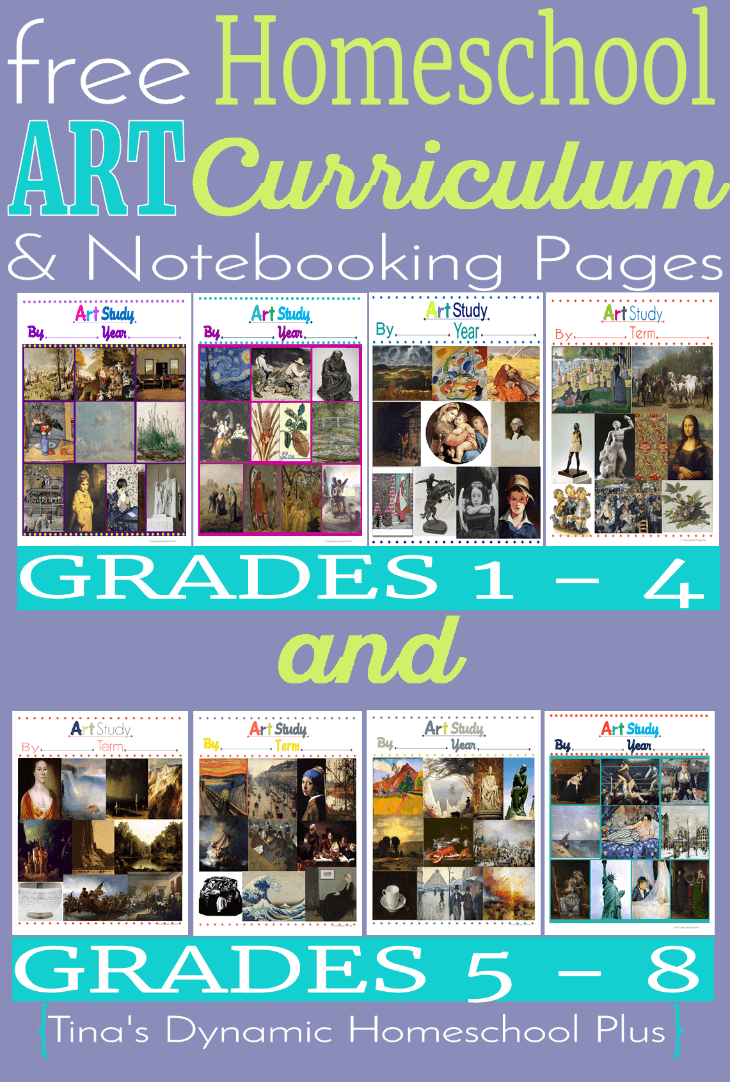 I have created notebooking pages (2 sets that are slightly different) to go along with this wonderful  free art curriculum guide at Concordia University Chicago – Art Lessons.!!!
---
Update: July, 2018 For years, these lesson plans have been at the Concordia University Chicago, but the professor who wrote them will be putting them on her website. I've been in touch with her and her reply is :  I'm in the process of reviewing these documents and hope to have them posted on my professional website early September.
Update: December, 2018 The author of the free art curriculum has decided to start charging for the curriculum guides which have been free for years. I've unlinked to her site and please note: The notebooking pages are mine and are still free. You'll see artist listed below with the notebooking page. For the upcoming year I'll be focusing on gathering resources for you for the artist study that we used.
---
Too, don't forget to join my facebook group where I share free resources.
Are you missing out on free unit study resources, how-tos, and encouragement I share JUST on my closed Facebook Group?

Curriculum guides are provided for Grades 1 – 8. However, I feel art can be enjoyed by all ages from K to Gray.
With these free curriculum guides from the Concordia University you can go in as depth or as light as you choose to because of the background information that is provided in each package.

Picture Source: Concordia University Chicago
You can download the whole unit for each grade level or the individual pages.
Click here to go to the main page.
Thank you Concordia University Chicago!




Why Does Each Grade Level Have 2 Sets of Notebooking Pages?
As a mom homeschooling multiple ages I wanted the flexibility to provide more in depth art, even for my highschoolers, as I used this curriculum.
Too, I needed to keep it on the lighter side for my youngest.
So both sets have the SAME art pieces but one set has one more text box and the other set has a sketch box.
First set has 4 Text Boxes – Artist Name, Facts About the Artist, Title of the Art and Interesting Facts.
Second set has 3 Text Boxes + 1 Sketch Box – Artist Name, Facts About the Artist, Title of the Art and Box for a Sketch of the art.

Your student can decide if they want to do more research and write under "Interesting Facts" or prefers to "Sketch" the art or a similar art piece
Mix and match each art and artists too from each pack.
Some of the artists my sons preferred to write about and some of the pieces they wanted to sketch.
How to use this: Download the free teacher guide for EACH grade level here at Concordia University.
 Then decide if you want to download one or both of my notebooking packets below each grade level.
1st Grade
Artists studied in this grade level are:
Paul Cezannne
Edward Hicks
Normal Rockwell
Pieter Brueghel
Sir Joshua Reynolds
Daniel French
Albrecht Durer
Mary Cassett
Winslow Homer
John Constable

---
2nd Grade

 Anne Whitney
Henri Rousseau
 George Catlin
John Singleton
 Henry Tanner
 Gustave Courbet
 Jean Millet
 Van Gogh
 Claude Monet
 Maria Sibylla
---
3rd Grade
Artists studied in this grade level are:
John Curry
Wassily Kandinsky
John Millais
Raphael Sanzio
Gilbert Stuart
Eastman Johnson
Jessie Smith
Frederick Remington
Julia Cameron
Thomas Sully

3rd grade packet. Download Here Set with SKETCH boxes.
3rd grade packet. Download Here Set with TEXT boxes.

---
 4th Grade
Artists studied in this grade level are:
John Audubon
William Morris
Edwin Landseer
Edmonia Lewis
Berta Hummel
Rosa Bonheur
Edgar Degas
Leonardo da Vinci
Pierre-Auguste Renoir
Georges Seurat
---
You'll Love these Lessons and Books by a Talented Homeschool Mom Who Makes Learning Art EASY and FUN!

 5th Grade
Artists studied in this grade level are:
George Bingham
Frederic Church
Edward Curtis
Emanuel Leutze
Paul Revere
Robert Duncanson
Henrietta Johnston
Thomas Moran
Martin Heade
 John Trumbull

---
6th Grade
Artists studied in this grade level are:
James McNeil Whistler
Tom Thomson
Caravaggio
Camille Pissarro
Henri de Toulouse-Lautrec
Kathe Kollwitz
Rembrandt van Rijn
Edvard Munch
Katsushika Hokusai
Johannes Vermeer

---
7th Grade
Artists studied in this grade level are:
Casper David Friedrich
Gustave Caillebotte
Anne Vallayer-Coster
Michelangelo
Hendrick Avercamp
Henri Fantin-Latour
William Turner
George Inness
Paul Gauguin
Francois August Rene Rodin

8th Grade –

Berthe Morisot
Édouard Manet
Jan van Eyck
Cecilia Beaux
Susanne Valadon
Maurice Utrillo
George Bellows
Frédéric Auguste Bartholdi
Francis A. Silva
Adélaïde Labille-Guiard