Curriculum collecting junkie that I am, I thought I knew just about all of the homeschool friendly vendors that hail from my home state, the Lone Star state.

So I was plain giddy to review Set 1 of the Science Vocabulary Pictures from Lone Star Learning because I had not heard of them. I know this is not suppose to be a review of all the products they have, but you'll have to take a peek at their other products.  They are so swoon worthy.

Look at this Create-A-Folder. Can you say digital lapbook? I just had to take my time looking at everything on their site while I waited for them to ship me the Science Vocabulary Pictures.

When the vocabulary word cards arrived, the first thing I did was to try to get as many of the Science Vocabulary Pictures, Set 1 cards in a picture for you as I could. There are 40 cards in each set and they are not small either. They are 5.5″ x 8.5″ and in full color.  I am so pleased with the quality of the paper and how durable they are because I know they will hold up after much use.  We could not put them down as we wanted to go over each one and study the pictures.
I think the biggest reason I was so tickled to review these cards was because I wanted to say: FINALLY!
Finally, somebody gets the way that a lot of children learn and that is visually.  I feel teaching vocabulary is not just about writing tons of sentences over and over again as if only using it in a sentence is going to demonstrate mastery of the word and the definition. It makes me think of an example I share a lot in my workshop about teaching a foreign language. If a person does not understand a foreign language, then will showing them more words by flashing them faster in a flashcard set make them learn quicker? Will just displaying a word on a page with the definition make them suddenly "get it". It's crazy, but even seasoned veterans do this when we teach our children vocabulary. We write a word on a page along with a definition but provide no visual association. So the point I make in my workshop is that the age old method of learning a foreign language is picture association. I believe that learning vocabulary is like teaching a foreign language. Picture/word association makes the connection for a learner.
Then my praise for this product doesn't stop here as I recall another struggle in my journey when I taught Mr. Awesome to read. Showing him the "A" flash card, explaining the short a sound and pointing to the "apple" was so much for him to take in. It is like he had too many mental steps to take to get the letter/sound association. Until I switched to alphabet letter people that were "objects or pictures" as one unit, he didn't make progress.
So what I noticed immediately about the Science Vocabulary Pictures was that the word and definition are "one" in picture form. The word is not on the front and the definition on the back. You can decipher the meaning of the word from the shape or picture form of the word. I was elated and kuddos to Lone Star Learning for promoting products that our children can actually learn from.
I think it's important for you to know too that the definitions come with the package but they are all on one card size page. It is more like a list or reference tool for you. If you are thinking about your child copying the definition, the text is not real big on that one page.

If you want your children to have the definition strips and work with matching them up to the word, you can purchase them separately like I did. They are shown here above with the vinyl pockets that I did not get.

The definitions come on a page style with 6 strips per page. I appreciate that because then I can decide if I want them laminated or not.  I will show you in a minute though what I did with these sweeties because you know I have to organize and store them.

We started using the cards right away. Because we were studying the Inuit and about the Arctic, the vocabulary cards worked right into our unit study.  The activities we focused on at the beginning was to sort the words and understand their definition in how they related to the Inuit and the Arctic. So Tiny sorted through the cards, grouping them into two piles.

One pile we focused on immediately because it was related to our Inuit and Arctic study and the second pile I saved later because it was not as relevant to our immediate topic.

Another day we focused on including all of the cards to learn but we used them to try to form acrostics as they related to our unit study. He was tickled to get the word I C E from the cards. If you have not worked with your children a lot on teaching vocabulary words or are coming to that in your journey, then check out the free section that is called Conference Handouts . It has several free downloads but the one titled Vocabulary gives you some tips on how to teach vocabulary.

Before I show you how I am storing the Science Vocabulary Pictures, I need to mention to you that because of a shipping mistake we received the Target Vocabulary Set 1 originally instead of the Science Vocabulary Pictures. Though we both know that any vendor is not required to let you keep a product when a mistake is made, Lone Star Learning did let me keep this second set of vocabulary cards.  It is rare when I am speechless but I was because of the generosity of Lone Star Learning. It sets a tone for customer service that means a lot to me if I do business with somebody.

I was as equally impressed with the Target Vocabulary Pictures, Set 1 as I am with the Science Vocabulary Pictures. The Target Vocabulary Pictures are math vocabulary words presented visually like the Science Vocabulary Pictures. You know I told you we use Math U See for part of our math program and all of my boys, including my high schoolers, had to play with these math cards when we got them. Both sets of cards lends themselves to games like matching. We took 7 of the cards turned them face down along with the definition and then Tiny tried to see if he could match the definitions. Learning is suppose to be fun, hands-on and interactive and Lone Star Learning makes that possible.
We focused on learning the Science Vocabulary Pictures and their definition since there are 40 in the set and we will be working more with the Target Vocabulary Pictures for math more because they are 57 cards in the set we got. I have a complete unit for both math and science with these two sets.
If I could change some things about this product or should I say the description of the products I think I would focus on using the term visual learner. The website says in several places for their digital products that they help with students of special needs.  Maybe so. However, I feel we live in a very visual world and technology is catching up with that because of how many of us use an iPad in our school and use more online resources than ever before.  I don't feel we should ever do away with print or paper as I have always said I am a paper girl living in a digital world. But using a term like visual learner to explain their products, instead of focusing on special needs only, encompasses a lot more us who have strong visual modes as part of our learning style. I think it is best to learn through many modes and visual needs to be seen as more than just for special needs.
Also, I had emailed them a question I had about my product and they informed me that they have been doing some website revisions but I feel, it would be easier to navigate the products if they had more uniform product names. I wasn't sure if that was being worked on or not. Maybe because of my need to organize but I feel the Target Vocabulary Pictures should match in product name to the Science Vocabulary Pictures. Target Vocabulary makes me think of words in general and not math concepts. I may have overlooked the Target Vocabulary Pictures about math just because of the title. A term like Math Vocabulary Pictures makes it easier to remember. Though each math card may not have pictures on them, each word is presented in a visual manner, so the term is pretty consistent with the Science Vocabulary Pictures.
Now if I get to dream of new products on the site, I would wish for sets of cards that would be theme or unit based. I love, love, love the fact that the cards are not grouped by age level or grade but by needs. Would it be a stretch to wish for a "rain forest theme only" set, a "chemistry theme only" set or "plant theme only" set?

Because these two products are keepers in my home and because we will be using all of the cards for a while longer, I needed a place to organize my newest babies. I thought about Avery's Protect and Store Mini 1 inch binder that is 5.5 by 8.5 inches . You mean not everybody  keeps binder sizes in their heads and dreams about what they can store next in a binder? Weird.

Organization heaven. The math cards fit right into the storage pocket on the left side of the binder. Then, I purchased some Avery sheet protectors and added two Science Vocabulary Pictures to each page, front and back. It is the perfect tool for storing these beauties.

The definition strips I purchased separately fit in the pocket and we can concentrate on the ones we want to learn each day by matching them up, taking them out of the pocket or leaving them in so they can be memorized. LOVE IT!!!

Then I had to make a pretty cover so it matches my school room decor. Would you like a free pretty cover for your notebook? I used the title Science Vocabulary Pictures since our focus is on the science.


Download here a front cover, a binder side insert, and a back cover for your mini notebook.
I hope you love the cover. Here are some quick facts at a glance in one spot about the Science Vocabulary Pictures so you can locate them easily.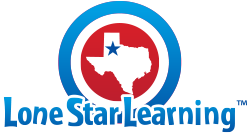 Product Name: Science Vocabulary Pictures, Set 1
Website:  Lone Star Learning
Price: From $29.99
Grades/Ages to use it for:  They are not arranged by grades but by sets. Again, I love this part. Look over each set to determine what your needs are. So you have an idea though about grade level they are intended Grades 3-8.
Type of Product:  Available in 5.5″ x 8.5″ full color, coated cards that show the word and its meaning in picture form. Digital products available too.
Accessories you will love:  Vinyl pockets, Vocabulary Definition Strips, and Vocabulary Spanish Word Strips.
Customer Service: My question emailed to them was answered quickly and thoroughly the next day.  My experience in customer service was excellent.
I already purchased the definition strips and know that I will be purchasing more items from Lone Star Learning. Overall, I was delighted with both of the products I received and would highly recommend them to you if are struggling to teach your children science or math or if you don't want to begin to struggle. Again, be sure to look over all of their products. I have my wish list going already and I can't help but say that I am proud to give you a shout out about this vendor from my home state.
Hugs and love ya,

{Disclaimer:  I received a free copy of this product in exchange for my honest review. I was not required to write a positive review nor was I compensated in any other way. All opinions I have expressed are my own or those of my family. I am disclosing this in accordance with the FTC Regulations.}