The Phoenicians were famous seaman and founded colonies all over the Mediterranean Sea. When we studied the ancients this time, I tried to focus on making it matter by tying it to its modern day location which is Lebanon.  Though the boys enjoyed reading about Beirut and understanding that Beirut is the capital of Lebanon, I think they enjoyed it a little more when we made the glass blowing connection. After we studied it last time, we focused on the Phoenicians craft of glass making.
Because I like to keep my units with some hands-on activities, I collected a few activities about Ancient Phoenicia at the bottom of this post.  That way we both have some resources when we review this again.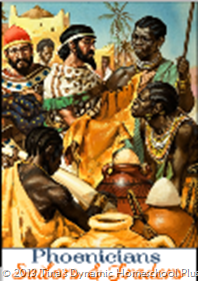 Today, I also have the next minibook on Ancient Phoenicia. It is a tab book and I have a map included in this download that glues on the inside and a few facts too if you want to use them.
Download Phoenicians book here.

It is book 6 and it goes placed at the top right side.  We did revisit our glass blowing lapbook to make it somewhat hands-on.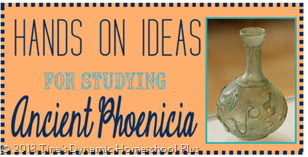 I rounded up a few other hands-on ideas because it really makes learning about any topic a bit more lively. Even something simple is more memorable than a worksheet.

(Pic. Att: Creekside Learning)
Look at this fun boat made by the kids at Creekside Learning. Click here to go there.

(Pic. Att: Creekside Learning)
They also made purple dye. Click here to go there.

Over at Satori Smiles they used an expired bag of frozen blueberries to make the dye. Check out the fun here.

My glass blowing lapbook ties in with this unit too. Click here to go there.

The Phoenician alphabet. (Picture Att: Design With Type)
I could see making a code of some sort to make this more interactive.

Over at Love Learn Play there is a 6 page download with resources and some copy work.

The Artful Parent has some beautiful ideas for doing some glass activities that would make studying this topic take an art trail. Click here to go there.
Then some links we marked/found helpful.
Reviews & Quizzes for Story of the World Volume 1. A helpful resource that has multiple questions to use for review and that is interactive.
I hope some of these ideas help to spark your creative ideas or add to enrich your study about the Ancient Phoenicians.
Hugs and love ya,