Written by Selena at Look! We're Learning!
I'm extremely fascinated by the Middle Ages. I know that the reality of that time was far less romantic than novels and films make it seem, but the castles and the jousting tournaments and the costumes are just wonderful to think of.
In those years (and in the years since), royal and noble families have had a coat of arms to show what they've accomplished in their history. And, while the coat of arms is often associated with Medieval Europe, it's actually been used all over the world – from China to Senegal.
To learn more about how these designs were used and passed down through families, we decided to make our own coat of arms! See how you can do the same for a hands-on history lesson!
Hands-On History: Make a Coat of Arms
A coat of arms is a special design made for a distinguished person or family. The design varies, depending on the family's (or person's) accomplishments, titles, and positions.
Each part of the coat of arms actually has a name. The top third is called the "field" and the bottom two-thirds is called the "escutcheon", which is actually a small shield within the larger shield.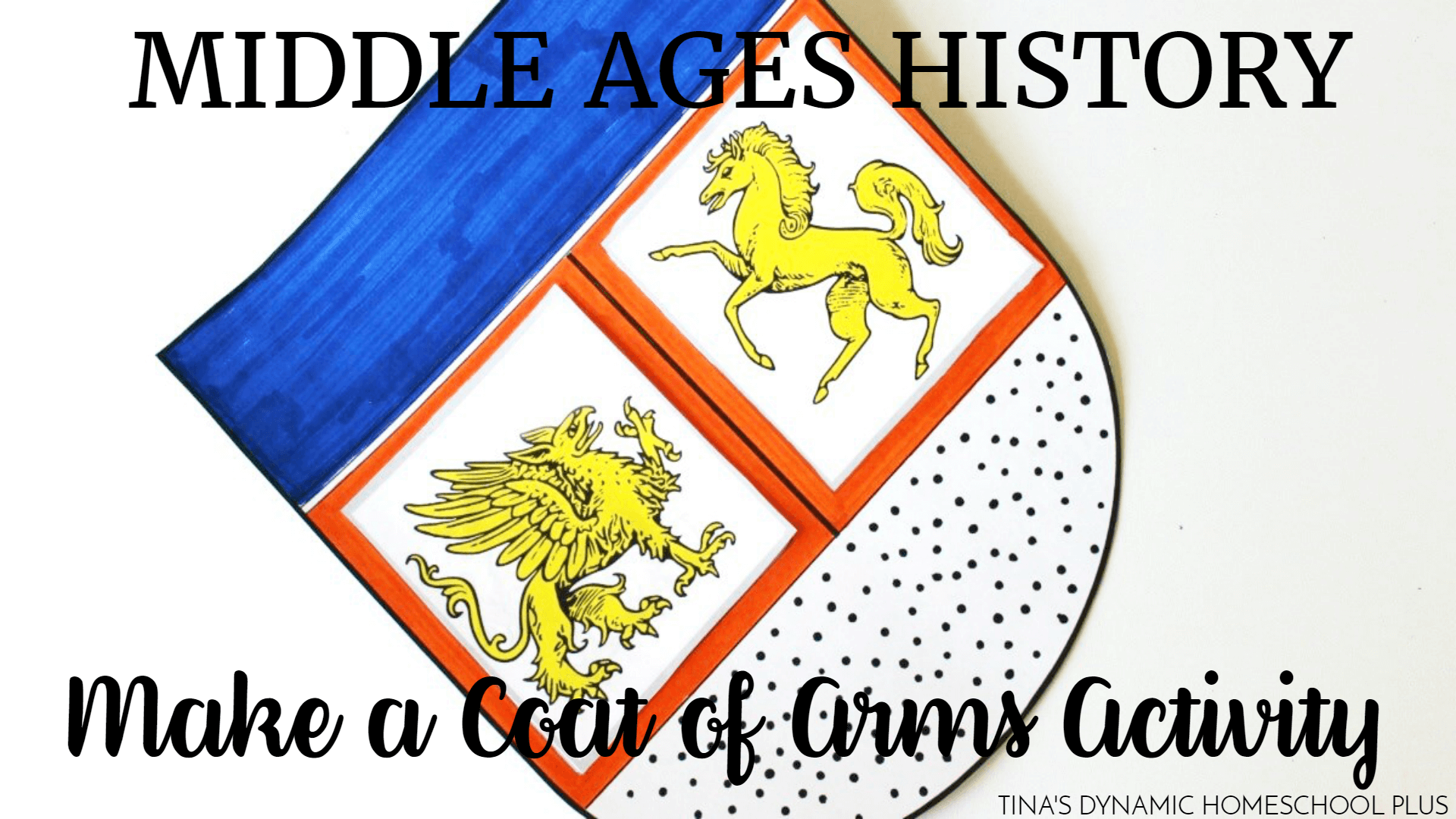 Everything on a coat of arms is significant and meaningful. The colors, symbols, choice of animals, patterns, and designs can all denote something different.
The design of a coat of arms can vary greatly, according to family or country. For example, this is the coat of arms of the country of Botswana.
Now compare that one to this one that belongs to the
Duke of Westminster
.
There's a lot going on there, right?
For our coat of arms, we went with a much, much simpler design, but it incorporates some of the significant colors, symbols, and patterns we read about.
To do the activity yourself, you'll need the following:
Printer paper
Cardstock
Scissors
Glue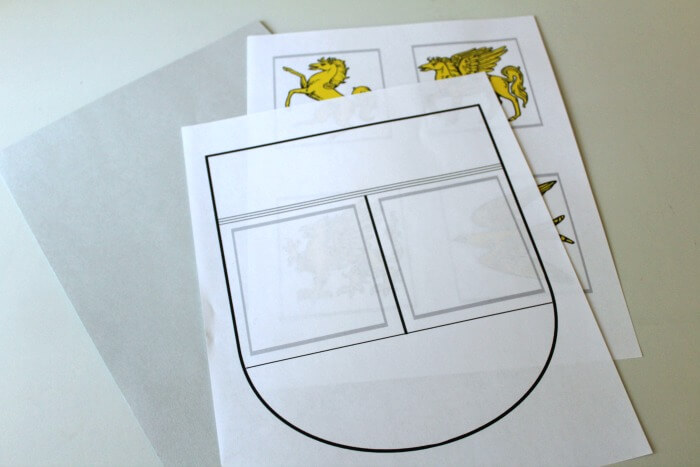 Start by printing out the coat of arms and the animal symbols.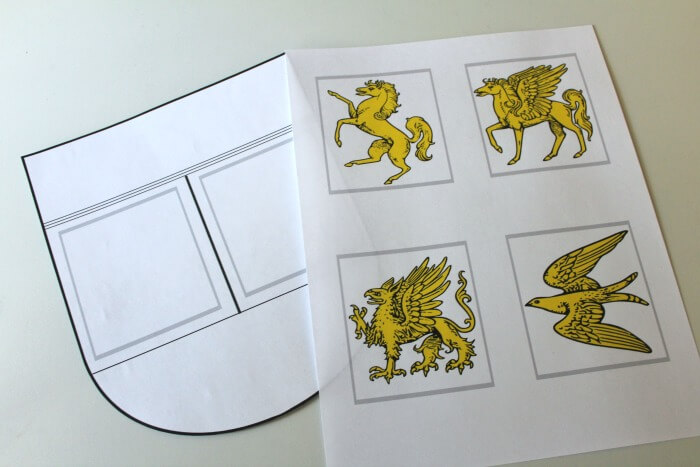 I didn't have white cardstock, so I printed ours on a white piece of printer paper and then glued it on the grey cardstock we had. Then we cut it out.
If you have white cardstock, you can skip that step and just print the coat of arms directly on that.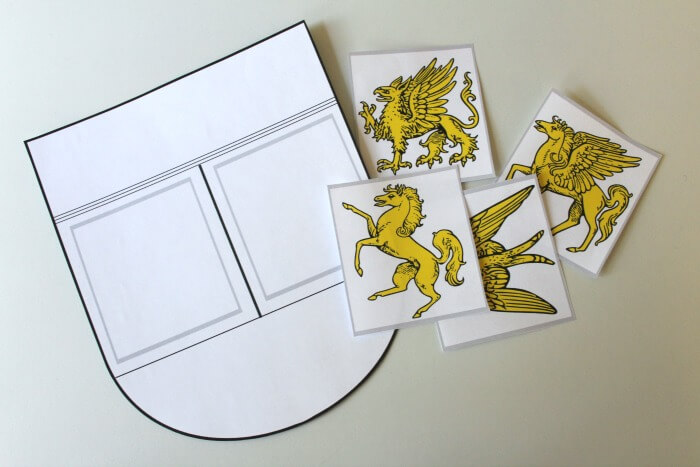 Now, it's time to choose your animal symbols! I only included four in this printable, but there are truly scores of different animals that have been used on coats of arms through the years. And they all have a different meaning.
The animals in the printable mean the following:
Griffin – means valor & bravery
Pegasus – means poetic genius (as an English major, I had to include that one)
Horse – means ready for battle
Bird – means peace & affection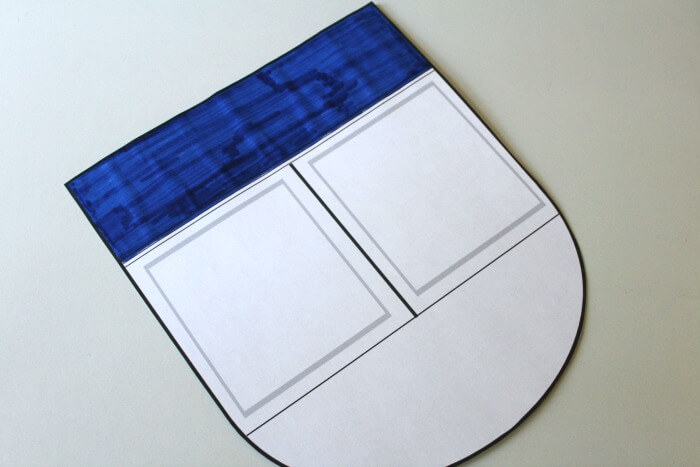 Then it was time to choose our coat of arms colors! As we learned, blue means truth & loyalty, so we colored the "field" blue.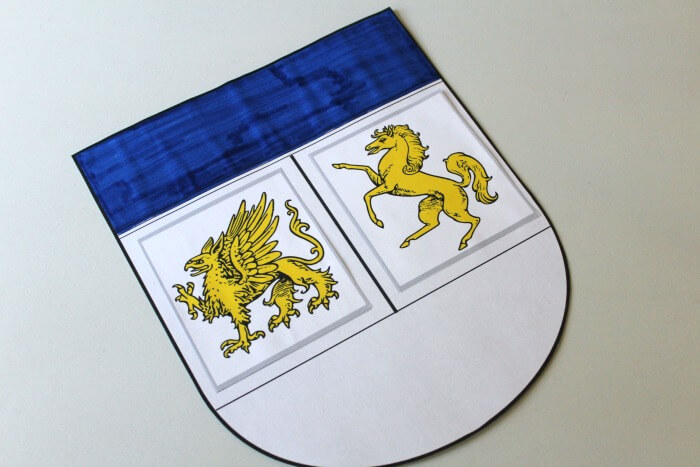 Then we added our animals.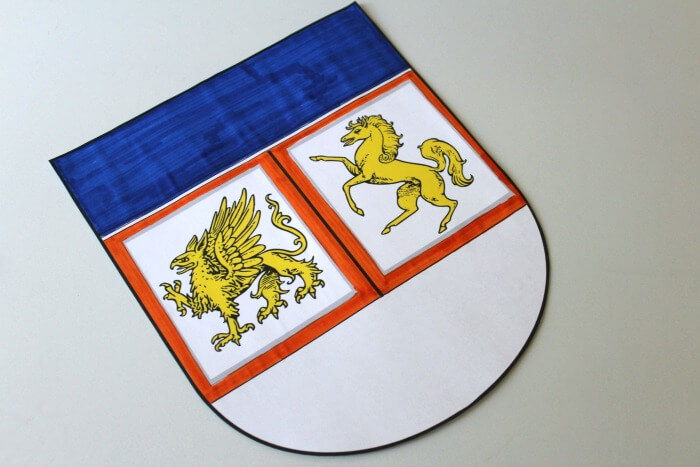 And we surrounded them with orange, which means "worthy ambition & work". Also because it looked cool.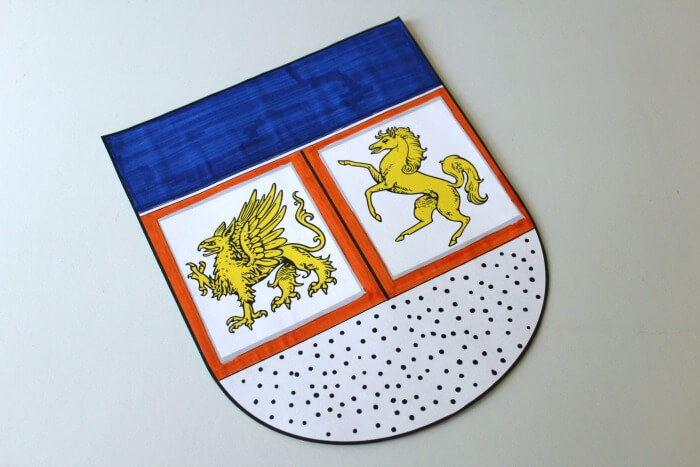 Finally, we learned that furs denoted nobility, so you could add a fur-like pattern to your coat of arms to show that you were of the upper class of society. One of those fur patterns was white with black spots – like a Dalmatian. We went with that.
As I kept looking at it, though, it just didn't look right. Then it hit me! The animals are supposed to be facing each other!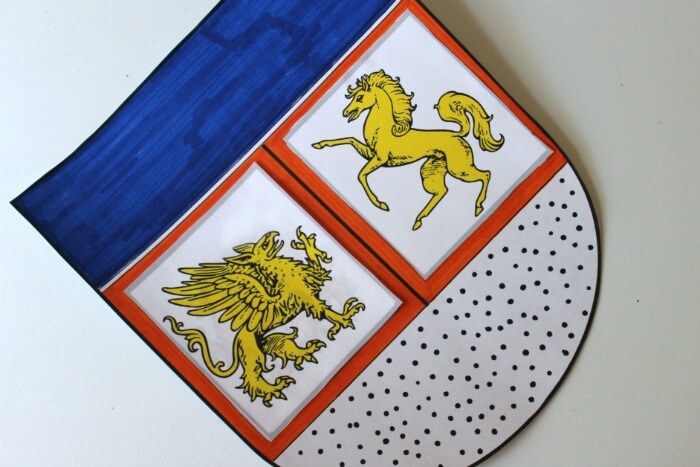 Ahhhh….that's better! Be sure to print both pages of the animal symbols so that you can choose two animals that will face one another on the coat of arms.
This was so neat to do! We didn't know that the coat of arms was so full of meaning, so this was a great hands-on lesson to learn about that.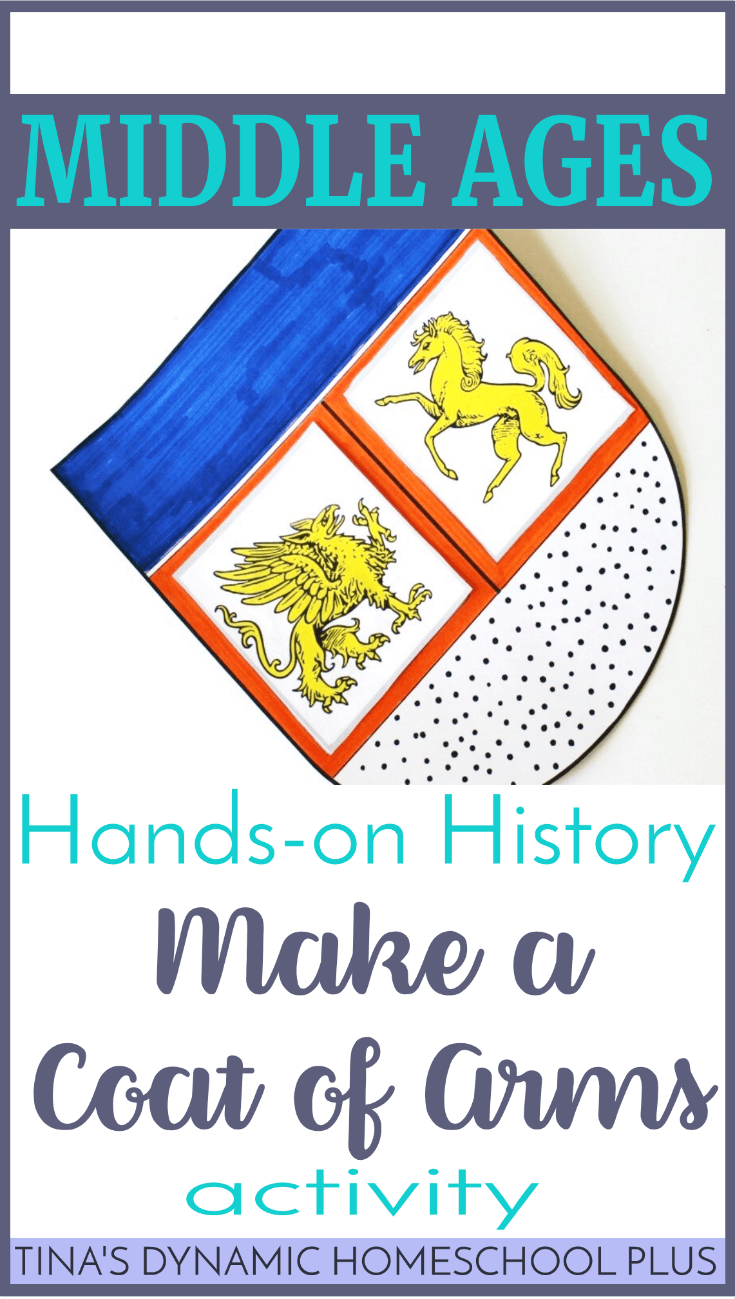 Check out these other hands-on history projects kids can do!