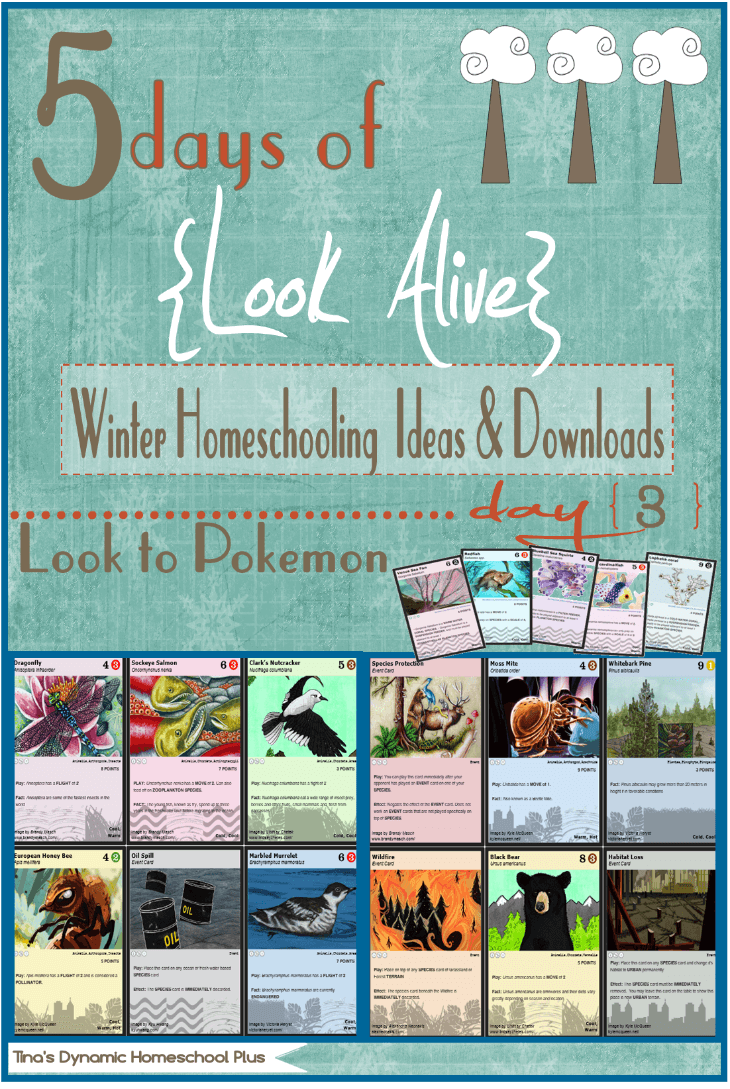 If you missed any days, grab them below:

Day 2. Look to the Sky.

Moving on along through our series: Look Alive:Winter Homeschooling Ideas & Downloads, Day 3 is Look to Pokemon or Pokemon like cards, which boys and girls both will find fun.
I agree with this next resource which says that kids know more about Pokemon creatures than they do about real animals.
Take a lesson from what most kids like to do which is play cards and use it for real life learning. Phylo the Trading Card Game  did just that.
It has been a real treasure trove for my boys to say the least and it's FREE.


Phylo is a website that has free printable trading cards. Here is what it says from the site: an online initiative aimed at creating a Pokemon card type resource but with real creatures on display in full "artistic" wonder. It is a card game that makes use of the wonderful, complex and inspiring things that inform the notion of biodiversity.
Studying and learning science this way is a real keeper. The artwork is so beautiful and the cards are just plain fun.


The idea is to print off all you want to and then play a pokemon-like game. Even if you don't want to print the rules and find out how they assign the game cards a point value, etc., you can still play a real simple matching game.

The cards make EXCELLENT additions to your lapbook, unit studies or notebooking pages. There are several decks to choose from or like I mentioned you can print off exactly what you want. Click here to see the choices of the decks that you can download and be sure to grab them ALL!

One of our favorite decks has the cards above in it from the Natural History Museum in London. One of the games suggested to play is about the ecosystem.
Look on the card for the common name, Latin name, food chain, diet and climate and then learn the facts.
Heads up too because you will want to pay attention if any of them teach evolution as there are many cards to go through.
Most of them I appreciate because they give a simple fact along with a point value assigned if you want to let your kids play together. They also give credit to the artist of the picture.
We have just enjoyed printing them off and learning about them.
Hands down this site has been our favorite so far if we had to choose one. Here are some quick links for you in one place.
Take a clue from Pokemon and let the cards do the teaching during winter homeschooling blues.
Hugs and love ya,