Organization for us as home educators is not the same as it is for the rest of the world. Think about that for a minute because if you do, priorities become real clear.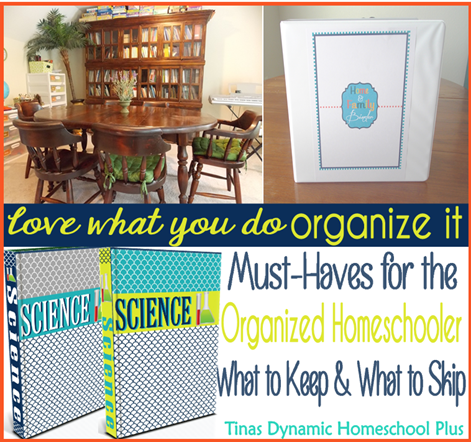 I need to add the phrase Love What You Do: Organize It on the back cover of my home management binder because I am so very inspired when I read it.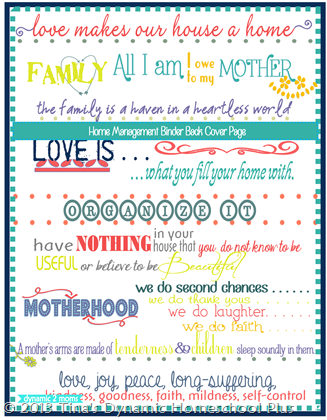 (Download my home management back cover at New Bee Homeschooler)
I don't mean the giddy kind of inspired, but the deep down from my gut with dogged determination I-can-do this inspired. So I'm hoping that by sharing must-haves for the organized homeschooler today, I make it easier  for you and not create a must-have list of things that don't work.
When You Homeschool and
Agonize 

Organize

We stop agonizing over organizing and what becomes a hobby for some folks (oh yes, I could so go there but I try to keep myself reined in) and the realities of the things that actually need to be organized becomes two very different things.
What to Keep & What to Skip!
There is a difference in the ways we approach an idea, task or project IF we want to accomplish organizing that fits our homeschool lifestyle.
Our homeschool lifestyle cannot be dismissed as some small undertaking so it requires  a measure of finesse that a lot of books, blogs and websites on general organizing just don't understand. We are not sending our kids off somewhere, but we are living and learning in shared spaces.
Look at my list below because we don't' have to give up organization and don't  want to, we just learn how to do it differently.
| | | |
| --- | --- | --- |
| Task (Keep)  | Dreaming? (Maybe Skip) | Get a reality check chick! |
| | Would love to create a cookbook. | My family needs to eat and nutrition is important. Simple meals are okay and if I get to create a cookbook along the way, then I am in love. |
| | I would love to have  all matching pages with beautiful borders and recipes all typed out so pretty. | Will settle for a binder that is organized and not every page is matching, but it becomes a very useful tool. |
| | Give up all day laundry days unless you don't have anything else to do for the day. | Wash one or two loads a day as you school each day and plod along. |
| Socialization (here we go again) | Each of my 7 children choose 2 activities each week that they want to do. Ideal goal but uhmmm when do we school? | Insanity comes from driving all over the place and not spending anytime at home. Can I combine days so that 2 activities are done on one day or cut back so that each child gets one special activity a week? |
| | Physical Binder would look hot complete with all those forms, but then when would I pay the bills. | Can I combine some online bill paying and paper bills so that the process is smoother and I get them paid?  Mix and match a bill paying system or try to utilize on line bill paying so that our time is maximized. |
| | I think we should all have full time housekeepers. | I will accept a kid cleaned house and will not go behind them, but train them in life skills as I educate them academically too |
While you are at it, skip all those organization books that do not include homeschool parents as an author too. Okay, you may think this is a bit harsh, but if you are struggling in this area, then a book written for an audience that does not have the same demands we have  on our time might end up discouraging you instead of inspiring you.
Sure, you could glean some tips from it, but wouldn't the advice be more useful  from those of us in the homeschool trenches?
5 Must-Haves for the HIGHLY Organized Homeschooler
Look at my list of what makes me eyes pop open for the day ready to take charge.
1. Menu Planning for 30/31 Days. Not easy if you only normally menu plan for 7 days. However, I encourage all homeschoolers to menu plan for 30/31 days because you do not have to plan again so quickly. Taking an extra 15 minutes or so gives back way more time in the month than it takes up.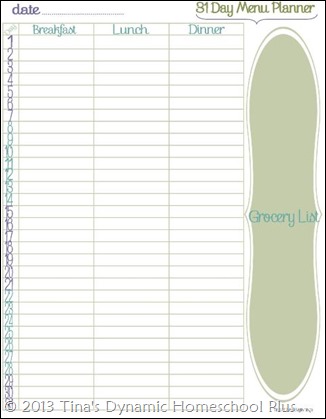 (Look at my Free EDITABLE too Menu Planner, Section 5 at New Bee Homeschooler)
2. Chores Assigned to Each Family Member. I could not do what I do or even school for the day if the boys did not help. Teaching them requires time, but the payoffs are huge.
Ideally, I would love to tell you that I trained them so that now they do all my grocery shopping, but really they have learned some valuable life skills that  I can't check off in my planner.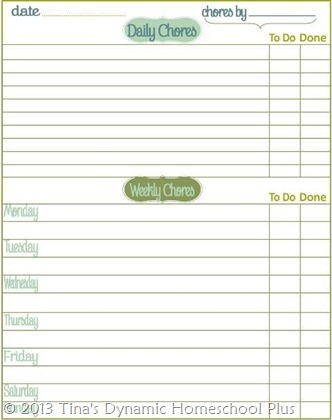 (Look here at my free chore chart too at New Bee Homeschooler, Section 4 and guess what? It's Editable too.)
3. Do I really need to tell you how my heart goes pitter patter when I say the word Curriculum Planner? 'nuff said.
4. A command center. Even if it's simple or temporary. This can include all upcoming activities for the family and even a Home Management Binder. A physical place at the house where everybody can see what is planned, I find very useful in keeping my family up to date.
Also, I use and love Cozi, which is a free family calendar app. Each week the calendar is mailed out to everybody's email or phone. I love this now that I have teens because we could be going a lot of different directions during the day. Not just that, but the boys can see what is coming up too and learn to plan.
5. Last, but not least an area to organize the overflowing amount of books, supplies and crafts that come with the full time job of homeschooling. Though I highly recommend having a homeschool room, I know that is not possible with everybody. I do recommend that you have a place to corral all the clutter so that your home remains a place for relaxing family evenings.
That's its. Lets not complicate this anymore than it has to be by a long list of things that would be nice to have, but are not must-haves. Work only on these 5 general things. After you have achieved these, then get into highly specialized organizing like a Home Management Binder.
Because I love what I do, I have created some new student science book covers for 1" binders.  I have been making some organizational changes to my home and life like I have mentioned before, so when I finish I want to be sure I can find our notebooks and organize them. Too, sometimes white binders are easier to use and with the cover and spine, you can make many different combinations for all of your kids.
Download Free Science Student Notebook Covers Choice of 5 Different but matching Covers and 6 Choices of Spine Inserts. (Print on Cardstock for durability.)
And don't forget, Love What You Do – Organize it!
This is also a blog hop. This blog hop is organized by iHomeschool Network, a collaboration of outstanding homeschool bloggers who connect with each other and with family-friendly companies in mutual beneficial projects.

Hugs and love ya,