Today, I have 20 free ancient civilization history coloring pages that match up to my units here on my blog.
Because these coloring pages can be used so many ways, I want to be sure you get this first round that I have been hoarding keeping.

Ancient Civilization History
Sometimes the boys want to create their own covers for the lapbooks or notebooks from coloring pages.
I know with younger children, it can be hard to find history coloring pages based on everyday life.
Also, I say this all the time but it's so important to me to use clip art that is not babyish or goofy looking even for young kids.  So when I find them, I want to share with you.  I have always tried to use museum quality coloring pages when the coloring mood did strike with my boys.
We have used various museum quality history coloring books through the years that have made a big difference in how my boys understood history in the early years.
I think clip art should be as real as possible and based on real events in history. They are not always easy to find. I wish I could draw my own history clip art, but you don't want me to draw for you. Just saying.
Learning History Through Coloring
Anyway, I collect the clip art as I find it.
Also, instead of me adding titles on pages or naming the pages, this allows you to use the clip art/coloring pages any way you want to. Whether it is a cover page, notebooking page, journal page or just to enrich a topic, you have the flexibility.
Here is what my 20 page download contains and what units they go with if you are wanting to plan.
I put a few key words to explain each picture if you want to make one a title page.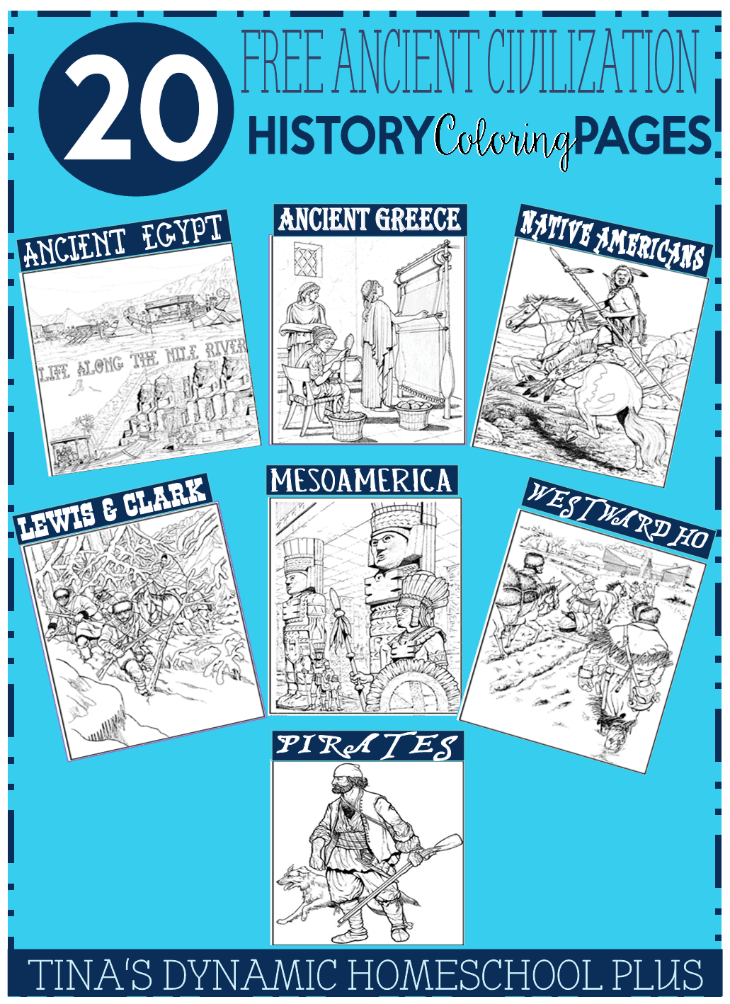 Pages 1 and 2.  Life with the Plains Indians – Plains Indians Unit.
Pages 3, 4, and 5. Lewis and Clark Exploring, Page 3 is about Fighting with the Piegan Native American – Lewis & Clark Unit.
Pages 6 – 9. Frontiersman, Settlers, Mountain men and Moving West. Westward Ho Unit.
Page 10. Pirate Life – Pirate Unit.
Pages 11 – 13. Life in Ancient Egypt, Life Along the Nile River, Metal Workers, Hieroglyphic Workers, Ancient Egypt War – Ancient Civilizations Unit 1 and Ancient Civilizations Unit II.
Pages 14 – 16. Ancient Greece. Women Spinning Yarn, Greece Bankers and Athens – Ancient Greece Unit.
Pages 17 – 20.  Meso-america. Fishing, Writing Glyphs, Ancient Temple and Floating Gardens – Meso-america Unit.
Download ALL 20 pages in one download below.
Download the history based 20 coloring pages here.
Also, you'll want to download Geography Resource + Set of 12 History Makers Notebook Pages – Set 1  and History Makers Notebooking Pages – Famous Persons from Ancient to Modern – Set 2.
Hugs and you know I love ya,