I rounded up some World War II free resources for a middle school unit study because I plan on tackling this tough part in American history soon with Tiny.
This certainly is not an easy topic to study with younger kids and it's still pretty hard with middle and high school kids.
However, it is easier to explain the issues and ideology on both sides when your kids are a bit older.

You know too I like having plenty of time to plan, think about some of these activities and gather them in one place before we start.
World War II Activities for Homeschooled Kids
Look at these ideas for hands-on history, free lesson plans and resources.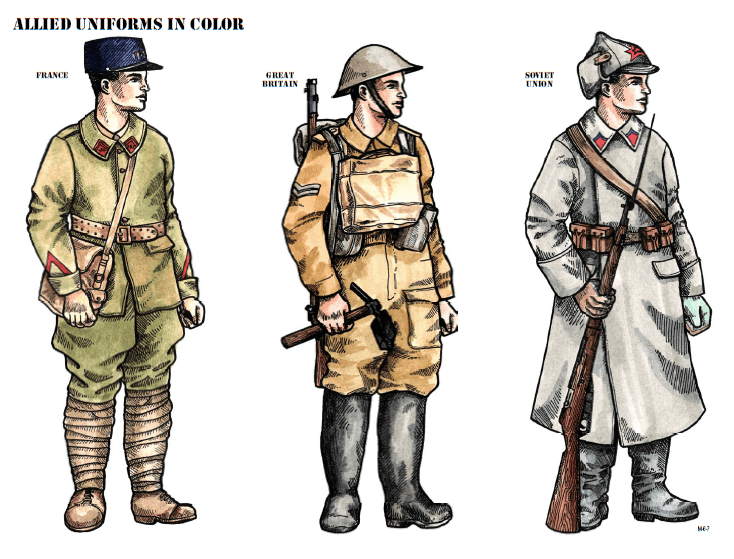 (Picture copyright Home School in the Woods and used here for illustrative purposes only.)
Grab the free sample lesson download at the bottom of the page at Home School In the Woods.
It has some soldier paper dolls (for lack of better words) in color showing the soldiers for both sides and I think it's an easy way of identifying whose who in the war.
Video from NeoK12about World War II. Letters are read from that time period about how people felt.
These letters or excerpts are a great free primary resource to use.
A free lesson planon the Navajo Code Talkers.
In 1943 Eleanor Roosevelt helped start a Victory Garden movement that ended up making a substantial contribution to feeding the nation in wartime.
So you could either plant a garden or have a Victory Garden Meal as you studied this topic.
World War II Free Resources For a Middle School Unit Study
Look at this recipe that I have included below that is in one of our kids history magazine that would make a fun edible project.
Victory Soup
Ingredients.
1 of each of the following:
potato
onion
celery
turnip
tomato
1/2 cup corn
1/2 cup peas
Small amount of any leftover cooked vegetables in your refrigerator
2 Tablespoons flour
2 Tablespoons butter
2 Cups tomato juice
1 Cup water
½ Tablespoon salt
Pepper to taste
¼ Cup small pieces of macaroni or any type you prefer
Directions.
Peel the potato, cut in cube and boil in water for 15 minutes. Peel the carrot and turnip. Chop the onion and celery in small pieces. Slice the carrot.
Dice the turnip and tomato. Mash the potato in the cooking water.
Melt the butter over medium heat in a soup pot. Add the onion and celery and cook over low heat for about five minute, stirring frequently.
Add the flour and stir for one minute. Add the tomato juice, water, salt, pepper and macaroni. Add the potatoes, carrots, turnips, corn, peas and tomato.
Cook over medium heat stirring.
When soup begins to boil, lower the heat and simmer for 20 minutes. During the last five minutes, add any leftover vegetable.
Read letters from the Front. More letters from the home front.
Though this 198 page pdf download does not have lesson plans, this was a study of the World War II home front.
The purpose of the study is to identify historic places that best represent the wartime mobilization that occurred  in the United States and its territories and possessions between 1939 and 1945 to assist in identifying whether any of these places should be considered for potential inclusion in  the National Park System.
In other words, it makes a nifty guide for identifying key places and obtaining back ground information.
Check out this free 28 page pdf book, On the Home Front Life During World War II, by MacMillan/McGraw that has all kinds of useful tidbits and background information from how fashion had to change to save fund for the war effort, to war time toys to women in the work field.
Study poster art from World War II in this free 26 page download.
Very helpful World War II history study guide that is only 2 pages long but in a three column form, it gives several topics to study.
Learn about canning, which was utilized to help rationing during wartime.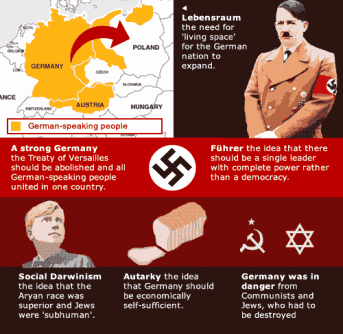 Use this Nazi party infographic to help your child understand their ideals.
Watch and listen to the original Sound of Music. The well known Von Trapp family left Austria before the Nazi take over.
Another activity would be to compare the movie with what happened in real life.
Check out this site that lists some facts about the life of Maria Von Trapp.
Love the free World War II lapbook and ideas from Jimmie's Collage.
Here is a great visual on understanding the attack on Pearl Harbor.
Then Teaching Ideas has some very helpful free pdfs like the 25 pdf on dogs in the war, clothes rationing and questioning a World War II character.
Make a model gas mask.
Pearl Harbor teacher's guide from Scholastic.
Check out this round up of World War II films by Kathy's Cluttered Mind.
She has some suggestions for younger children and some for older ones.
Also, check out this unit study for resources for younger children by Ticia at Adventure in Mommydom.
tudy tons of color posters by the British or propaganda artworks, which have been released on Wikipedia.
Free World War II timeline worksheet by Square Head Teachers.
Free teacher's guide World War II from Kids Discover.
Teach a lesson in being frugal by following this World War II saying: "Use it Up. Wear it Out. Make it Do" and add "Or Do Without" if you want to.
Add in some art by doing a shadow box on World War II. So cool.
Study some more primary resources. 11 Awesome Pages from World War II Ration Cookbooks from Mental Floss.
Then, some free coloring pages:
Woman in the War Effort.
Free coloring pages from Edupic.
3 free coloring pages for World War II airplanes from Dover Coloring.
Lots of free coloring pages for World War II aircraft.
Also free pdf posters about World War II from the Virtual Library.
(Picture copyright Ames History )
Spot an air craft activity.
During war time, kids would spot air crafts and try to identify them.
Check out these deck of cards from that time period that has different air craft pictured to learn about.
I have some more ideas for hands-on history that I'll share when we start our project, but I wanted to share these ideas today so you can starting sorting through them too.
What do you think? Will this get us started on a World War II unit study?
Hugs and love ya,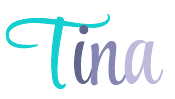 We did our lapbook and unit study too. Click on each link to go to that part of the unit study and lapbook.
also check out:
Free 27 Week American History Study through Lapbooking In Chronological Order
Hands-on History Activities for Learning about Ancient Civilizations
Toddler to Teen 100 Free Unit Study Resources