So I have been saving a picture I found a good while back (wish I could remember where I found it) of what was a cool timeline.  There were no instructions, but the photo sparked this timeline I want to show you today.
I have a free extend a timeline book, which is the next interactive minibook we did on our Marco Polo Unit Study.
Extend a Timeline Book – Hands-On History
And well, we found it kind of fun and yes, easy. The printables are a subscriber only freebie and I would love for you to follow and grab it.
Look at the steps below on how to do this free extend a timeline book.
First, it's easier to have your child write on a full size page instead of the smaller strip.  So fill in the timeline first on the full size page before you cut the strips.
I have some information on the downloadable to help you fill out the timeline and then as I go along I will add a more comprehensive timeline on this unit study.
Too, here in Ecuador I haven't been able to find cardstock yet, but I had photo paper and since it's more stiff, I used that for the cover page or 3 masted ship, which by the way is the kind of ship Marco Polo would have traveled in.
You want to print out the cover page on stiffer paper or cardstock and print out the timeline on regular paper so the strip is easier to fold.
Fold the cover sheet in half and cut down the middle.
Then cut out the timeline strips after they are filled in and fold back the part on the strip (gray part) where the two strips glue together.
After you download the printables, you will see that there are two strips that need to be glued together to form one long strip or timeline that will extend across both halves of the cover page.
I have instructions on the printables or tabs to show you where you are suppose to glue it in case this sounds all jibberish.
Here is the picture below after gluing the two strips together. Fold the crease and let it dry for a while.  And then crease both ends of the strip where they will attach to the cover page.
Next work on folding it accordion style.  You can see the front of the timeline faintly when you turn the strip on the back to start folding.  So we just folded it naturally dividing the time periods with the faint lines showing through from the front.
The picture below on the left shows us folding it accordion style and the picture on the right shows how it looked before we glued it on but after we messed with folding it.
It doesn't have to be perfect, just accordion like and it will work.
Then, flatten out the end pieces of the strip before you glue then onto the cover.
Glue the strips onto the bottom of the cover page and not in the middle or higher so that the book will stand somewhat on it's own.
Then taaa daaa, look at our interactive extend a timeline book. 
But, we have one more secret and that is where we will placing this book, but I can't tell you yet.
Okay, one clue and that is Tiny is working on a project for Marco Polo and this is one piece to it.
I can't wait till he's finished to show it to you. Here is how the printables look below.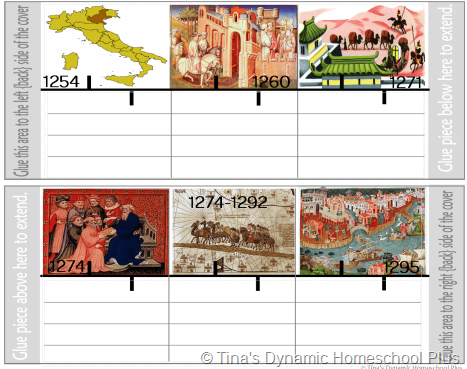 I would love for you to follow me and give me the opportunity to help you along in your homeschool journey.
I luv my followers and make it special for them here when I can.
This freebie is a subscriber only freebie! This means you get access to the exclusive area for subscribers and can download this printable there.
I would love for you to follow me and give me the opportunity to help you along in your homeschool journey.
Important: IF you are already an email reader meaning you are receiving my newsletters, please read this below instead of emailing me right away.
Though I love your emails, it can take a while for me to answer you.
Please find the link to the current follower only freebies at the BOTTOM of the most current newsletter to get this freebie. Click that link in the newsletter and you will be directed the follow only section for you.

What do you think? Does it look easy enough for your crew to do. Tiny sorta kinda had to admit that he liked this timeline.
Hugs and love ya,
Check out the other hands-on activities so far for our Marco Polo Unit Study.
Persian Mosaic Craft Marco Polo Unit Study
Create a Mythological Map – Marco Polo Unit Study
And then check out some of the Marco Polo books we are using and loving!