I survived the weekend and didn't have one of those nasty ugly cries at the graduation party in front of all of my guests and family. You know the kind where you are glad that you are home and your make up can run all down your cheeks and nobody can see your nose run. Well, I didn't, at least until I got home. Then I figured I would have a nice long cry. Maybe it was the joy of the moment, maybe it was the relief that we could finally have it or maybe it was just the fact that we had so many of our closest homeschool friends and family there that I just felt like a good old nasty ugly, but wonderful cry.  Much better now.
The picture above is one of MANY to come. It is the table piece that my dear homeschooling friend did for all the guests table. The "T" kind of blends to the background, but it is a pretty shimmering silver.
I have SO many pictures  to share with you and ideas we did at the party. The pictures are being edited and I will show you soon or better yet do a series and give you ideas on how to plan your graduation party.
But today I have the next part of our unit study on South America ready.  I have vocabulary words and copy work.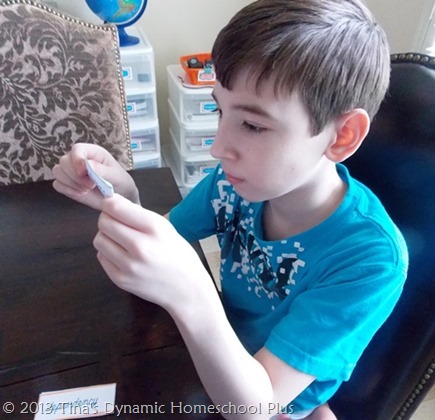 Because I had to get so many last minute details done for the party and because I have been working with Tiny on composition this year, I wanted to keep the vocabulary words fun too instead of listening to the whining and moaning doing lots of writing.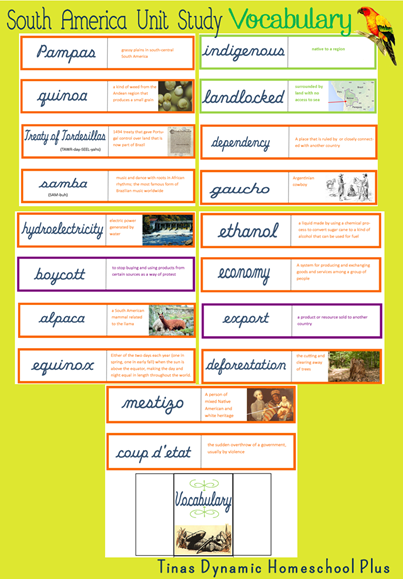 Download South America Unit Study Vocabulary Words Here
So I made the words to be used in one of two ways. You can cut them out, fold in half, glue and use like flash cards. The word is on the front and the definition is on the back. Or, you can cut the strip in half and do a mix/match where you have them match the word to the definition. Either way is a lot more fun than writing, which right now Tiny has an aversion to.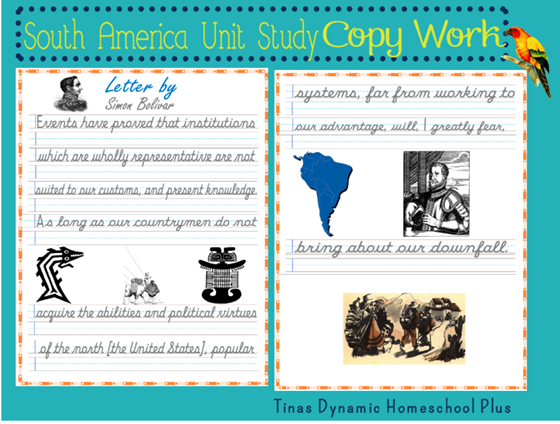 Download South America Unit Study Copy Work Here
Today, he will be doing some easy copy work. We read a short passage or a letter, a primary source, written by Simon Bolivar about how he wanted to unite South America. So it was perfect to use for our copy work.
You know I told you that I have all my boys do copy work for a long time, even into high school and that I sneak some in too for myself at night.  I am a true believer and fan of copy work because you can just concentrate on the beauty of words or ideas at the moment and can either be inspired or not. There is no analysis or etymology, it is just you and the delight of words. It's a way too of igniting a love of writing and vocabulary for a victim of burnout.
Enjoy the newest printables for our unit study. I will be working on getting my photos together of our graduation party so I can share with you and getting my house whipped back into some kind of shape today.
Hugs and love ya,