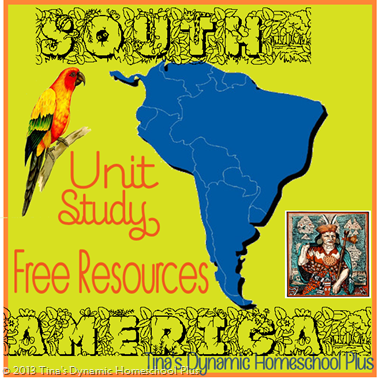 Congratulations to all the Amazon e-gift card winners! I posted the list on the blog post. I loved reading all your comments and it's SO hard to not jump in there and start talking with you, but if I do I "mess up" the contest. I just wanted you to know I read every comment. That's one of the reasons this post is going out later because I wanted to be sure I posted the winners too.
I have a laundry list of things I wanted to get done this week, but none more important than starting our unit study on South America.
My first step as far as planning is to determine what I have in my home and what I can find online.  Planning my unit studies is a lot like cooking  from scratch. I like to dig out what is in my pantry, then take a look at what others have too in their "pantry".
Too, at the beginning I decide whether we will do a lapbook or if we will just do some minibooks and keep it notebooking style.  A lot of our units we do both a lapbook and some notebooking pages.
Also, I decide if our unit study will be just enrichment to what we are doing day to day or if it's all we focus on for a while. My objectives affect how long we stay  on a unit.
Here is my short list for my objectives in this unit and a few goals.
| | |
| --- | --- |
| Comprehensive overview of the physical geography | Focus on landforms like Andes, Machu Picchu and some reminders on the Amazon Rain Forest |
| Understanding the influence of the Spanish Colonial Empire and the key influence Simon Bolivar had in Latin America's struggle for freedom | Build appreciation from our prior study of the Amazon that it is a life line for many and essential to our planet |
| Appreciate a unique design has a Designer by introducing the Galapagos | Allow time to immerse in the culture of people living in South America and the similarities and differences of each country though they are all considered Latin America. |
We will be doing a lapbook and notebooking pages. I guess you could say for the first unit of the year, we are going all out.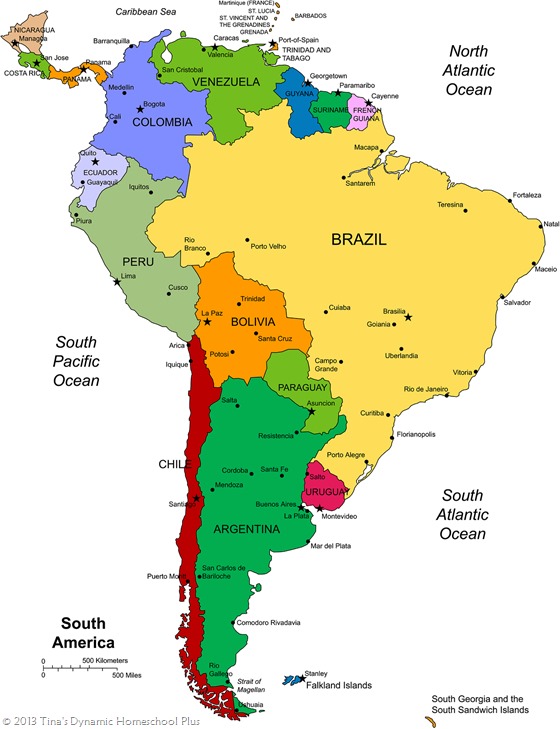 (© Clipart)
South America has 12 countries and 2 dependent territories so we have more than enough to keep us learning for quite a while. We will spend some time looking at what we have covered up to this time, so I can build my unit study on that foundation.
My South America Unit Study Resources
Some of my new followers may not know that I have a website that is called Dynamic 2 moms, which I will be changing soon to Tina's Dynamic Homeschool which is basically a place to store all of my units and free printables.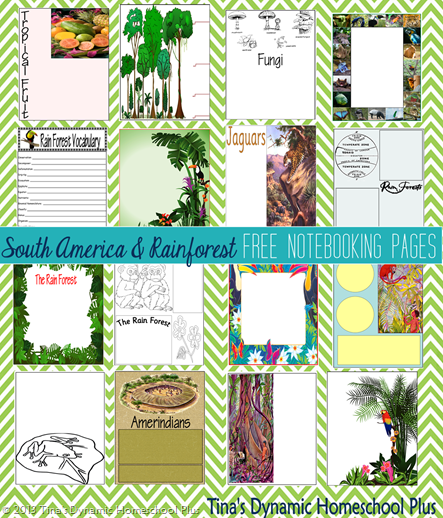 I have a total of 12 notebooking pages right now on my site  on the Amazon Rain Forest which I could use in this study. You can go there to grab these freebies and be sure to bookmark that site as I have over 25 units and I build on them too each year.
I have free lapbooks and some hands on ideas found there too at Dynamic 2 Moms which soon will be renamed Tina's Dynamic Homeschool.
However, because I want to focus on the other parts of South America and because the boys are a bit older, I already see that I will need some more printables. So I will be sharing those with you soon too.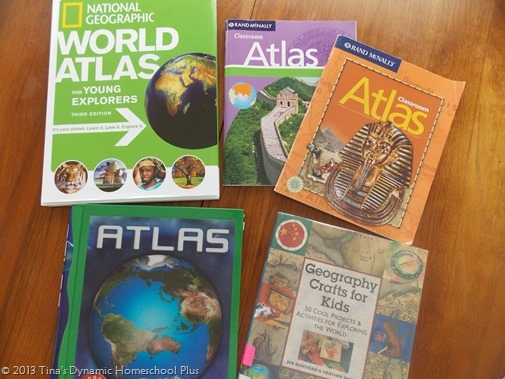 After I gathered the books I had on South America which happen to be mostly atlases, I know I need a trip to the library.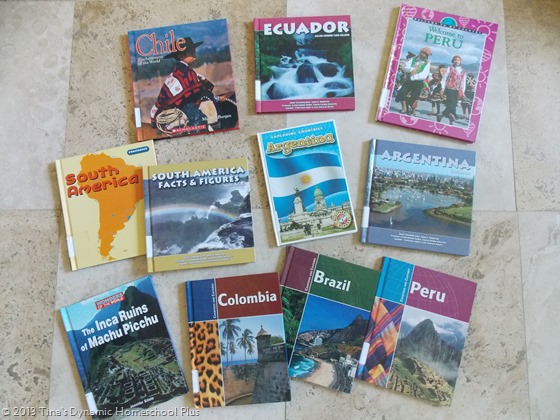 Though the library didn't have as many as I would have wanted in the adult section, they had some and that is more than enough to start a good thorough unit study.
So I have two or three lapbooks, 3 website pages on my Dynamic 2 moms which soon will be Tina's Dynamic Homeschool, and 12 notebooking pages, plus more printables and now library books. Almost there.
South America Unit Study Ideas to Borrow
Then of course because there are so many talented teachers in the homeschool world, we can see what else we find. I have linked some of my favorite resources here.
1. Heather over at Blog She Wrote starts with a Geography Quest on Brazil. It starts with a treasure hunt and ends in Brazil. Then they did a map of the watershed of the Amazon River.
Geography Quest on Brazil Treasure Hunt
Geography Quest on Brazil Answers and a video.
2. Jolanthe over at Homeschool Creations has some great stuff too.
She has some printables for a country study on Argentina, Chili, Peru and Venezuela.
3.  Then of course I always love Amy's stuff over at Homeschool Share.
South America Connections Page
4. Heidi over at Homeschool Room has a nice collection of geography resources on studying Brazil.
Geography Resources for Studying Brazil
I think we are ready! I will share our first hands-on project on this unit study next. Did you get your year off to a great start?
Hugs and love ya,