I hope I come down off this high I have been on since I moved my blog to WordPress. I have been so stoked in getting all kinds of goals checked off my list and accomplished.
Speaking of goals, I have been trying to get this new printable to you, but have been so engrossed in the 31 day boot camp.
Though I have a list of objectives  on Step 3: Choose Goals/Objectives, that form is more academic or homeschool focused. So it is for the objectives that you set for your children. My new form today is more geared toward general goals for your homeschool, personal, health and spiritual.  This more sweeping view allows you to make more general goals.
For example, it would be absolutely appropriate to write down under the Homeschool box: Survive My 1st Year of Homeschool. For me, I am focusing more attention to my health. My boys have been real good about their health, I just need to be sure I make more time for myself. I labeled one box Personal Goals because there may be something you might want to accomplish that is private or maybe something like financial. You decide what you want to write there as I left that title more general.
Visual person that I am when I see the goals written down, I am reminded of them. Plus, when you look back at the end of the year, it shows you made progress no  matter how tiny the step.
I have 2 color choices for you today. Geeky person about forms that I am, I named them. Okay, corny, but I couldn't resist.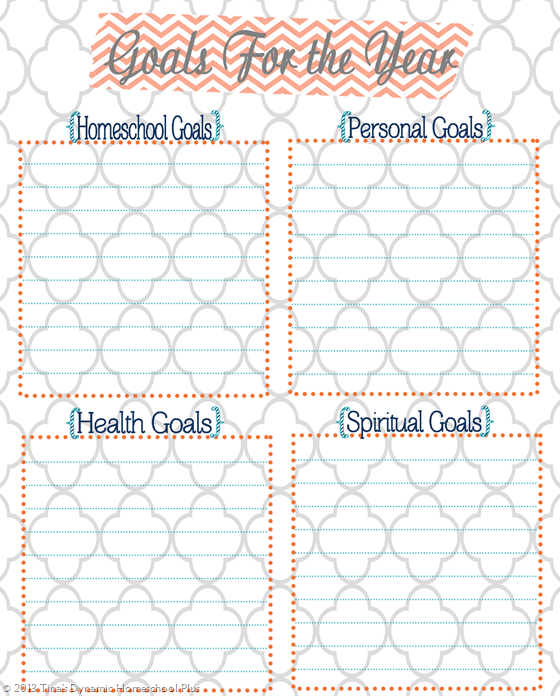 Download here  – Orange You Glad
Okay, by this time next week, I will be wrapping up the 31 day blog boot camp and I am still enjoying all your comments. This week on the boot camp, I have been hitting some tough subjects.  I know that some of you might be facing those problems soon, if not, then right now. I hope that when that time comes you can come back to the blog and grab some encouragement.
I haven't shared an inspirational quote in a while and you know how much I heart those small, but powerful capsules of energy. So here is one I luv today.
"The thing that is really hard, and really amazing, is giving
up on being perfect and beginning the work of becoming
yourself."
~ Anna Quindlen~
Hugs and I hope you enjoy the new free printables today